Theorem Vineyards is thrilled to announce the release of our 2017 Diamond Mountain Merlot and 2018 Chardonnay. These are the first Merlot and Chardonnay varieties we have produced. We love these wines and think you will too. These two wines will be available for purchase on September 10, 2019.
Theorem's Diamond Mountain & Moon Mountain District Vineyards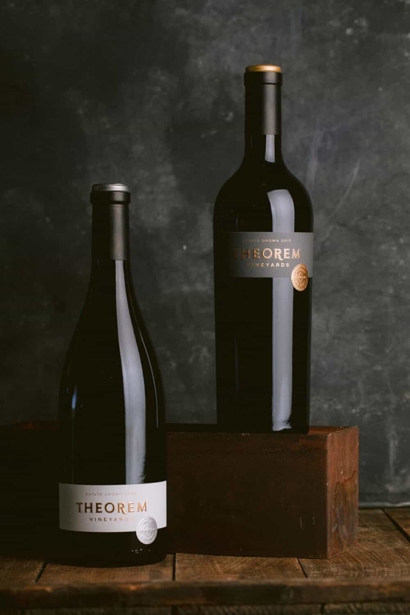 Part of what makes our wines so unique is the land they are grown from.
Our Diamond Mountain vineyard is blessed with volcanic soils, high elevation, and moderate temperatures that are ideal for growing the highest quality grapes. This vineyard spans 20 planted acres on the northern slope of the mountain, 1,100 feet above sea level. With ample sunlight and perfect soil, we believe that we have created a truly unique expression of this noble variety.
Our Moon Mountain District vineyard sits at 1,600 feet of elevation. The vines are situated in volcanic soils along the western slope of the Mayacamas Mountain. This land gets abundant sunlight and crosswinds from the Pacific Ocean and San Pablo Bay. It is this daily shift in temperatures along with the high elevation and volcanic soils that creates the unique micro-climate that allows us to grow the grapes that make this world-class white wine. This location showcases fruit that has some of the best characteristics of wines from Napa and Sonoma—grapes that translate beautifully into high-acid, crisp white wines. This rich and enchanting land is what helps us produce ultra-premium wines like our 2018 Chardonnay.
2017 Diamond Mountain Merlot
Theorem Vineyards' 2017 Diamond Mountain Merlot is both elegant and complex. This wine is a heady mix of ripe black cherries, fresh plums, milk chocolate, and roasted espresso. From the moment the wine touches your lips, it shows power, structure, and personality. As the wine glides over the mid-palate, it reveals a silky elegance wrapped in structured mountains tannins. The finish is long and protracted with lingering notes of ripe plums and roasted espresso. You can enjoy it now or cellar it for years.
2018 Moon Mountain District Chardonnay
The 2018 Theorem Vineyards Chardonnay is bright and fresh, with notes of freshly squeezed lemon, tart pineapple, lime blossom, honeysuckle, and crushed rocks. On the palate, the bright citrus notes meld with a creamy texture reminiscent of lemon meringue, with a similar ethereal lift. Just as the flavors envelop your palate, a beam of vibrant acidity slices through the creamy texture and creates a finish that is refreshingly bright and lingering. This is the style of white wine we dreamed of making when we first built Theorem Vineyards, and we are thrilled to share it with you.
Join Us for a Tour At Theorem Vineyards Today!
Our 2017 Merlot and 2018 Chardonnay are a perfect reflection of our enchanting property and our passion for creating world-class wines. We invite you to visit Theorem Vineyards for an unparalleled wine-tasting tour. We offer singular tasting experiences with panoramic views, award-winning architecture, and delicious wines. If you can't visit our vineyard this fall, bring Theorem to your home by purchasing our 2017 Diamond Mountain Merlot and our 2018 Theorem Vineyards Chardonnay. These wines are perfect for sharing with your loved ones or friends. Our 2017 Diamond Mountain Merlot and our 2018 Theorem Vineyards Chardonnay will be available to purchase on Tuesday, September 10, 2019.
Contact us today at (707) 942-4254 to schedule a visit to our winery.